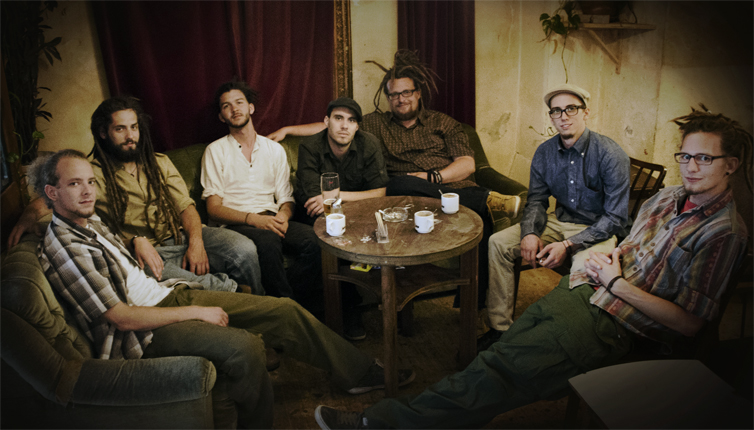 The Upper Austrian Reggae Band SOULDJA has been founded in 2008 and is now consisting of Markus Trappmair (Vocals, Riddim Guitar), Daniel "Dazo" Zorn (Vocals), Lukas Bräuer (Lead Guitar), Lukas Brandl (Bass), Florian Tavernier (Keys, Backing Vocals), Jakob Baumgartner (Percussion) und Georg Hinterberger (Drums).
With their music, they want to set an example speaking about respect, compassion and esteem for human beings and nature. Nevertheless, while being critical of racism, xenophobia, discrimination and the human rights violations and its consequences, their lyrics also want to invoke people to appreciate the silver lining of life.
The social commitment of the band is not only reflected in their music, but also in the strong connection and cooperation with Childrenplanet, an Austrian organisation for the education and care of children in developing countries. Up to now, they shared the stage with some great artists like Gentleman, Meta and the Cornerstones, Anthony B, Capleton, Jahcoustix, Jamaram, Sebastian Sturm & Exile Airline, and many more.
After their self-titled debut album from 2009, Souldja released their second studio album "Grown" in September 2013 on their own Label "Root Train Records". This title should indicate the band's musical and creative "growing" process, but also wants to show that the group developed as a band in the pasts few years. After being recorded and produced by Christian Kapun and Sebastian Pracher, the album was mixed by nobody less than Wolfgang Spanberger (Hubert von Goisern) in cooperation with Sebastian Pracher. The audio mastering then was done in "Sunshine Mastering" studio in Vienna. For sales and distribution in Austria, Souldja is cooperating with the highly competent and prestigious  "Hoanzl" company.
In 2014 the band was granted with the Austrian Newcomer Award and furthermore honored with the people choice award.
On the 6th of march SOULDJA released a new single called "Music". On the same date a professional video was also published in cooperation with the worldwide known platform "Reggaeville" (http://bit.ly/1CGl43W ).  The song is available as a free download version on all relevant online platforms.
Bandmembers >>
more infos coming soon...